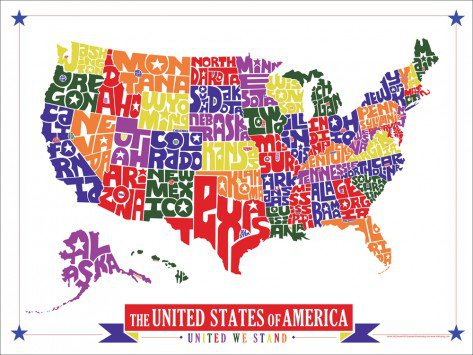 NEW YORK - USA Map
USA HAND-DRAWN MAP
This brilliant multi-colored map of the United States is just one of the many fabulous maps being made by I Lost My Dog in Brooklyn, NY. We love these maps and their style. These prints all fit a standard frame size so no custom framing is needed. Your local mom and pop frame shop or big box retailer has a large variety of framing options in all styles and price points. Printed as a giclee print on high-quality paper using 12-color HP Viviera inks, it's acid- free. This collectible print is signed by the artist. If you are looking to add a great pop of color in your home, this is the print for you. If you are seeking a gift with style, look no further. The receiver will love it, we promise. Shipped in a custom-designed corrugated mailing box (also cool,) with maximum protection and guaranteed to have your print arrive safely and in perfect framing condition.
SIZE 18" x 24"
ABOUT THE COMPANY
After 15 years working professionally in the design world, I Lost My Dog is the creative vision of Creative Director turned CEO James McDonald. A New Yorker his whole life, he was born and raised on Long Island's Suffolk County and is a proud resident of Brooklyn, New York for 12 years. He graduated from the University of Farmingdale with a degree in Visual Communications and traveled to Europe many times to study art history. His professional career began as intern and freelance designer at Jive Records in Manhattan. Since then he has gone to develop high-end watch designs for Kenneth Cole and Freestyle, travel the world for design related meetings and conferences, packaging and display design for many eye-wear manufacturers, album art for various bands and groups, and many other unique design projects along the way. Their love of type, travel, vintage, music, the ocean, sports, and anything weird or different are the inspiration for their designs.
Their growing company is family operated and based in Brooklyn, NY. Their goal is to provide one of a kind products that appeal to a broad demographic: savvy design consumers, those who take pride in where they come from, and those who want to have a lasting memory of where they have been. They accomplish this with good old fashioned American pride in their work and partnership to grow their business with you together. They now employ a small design team and sales reps to achieve their expansion at pop up art shows, their online presence and with retail accounts. Their growing customer list includes over 50 accounts, mostly small boutiques as well as larger national chains. All of their work is designed and printed in Brooklyn, NY, USA.