MASSACHUSETTS - Mixing Bowls 2 colors available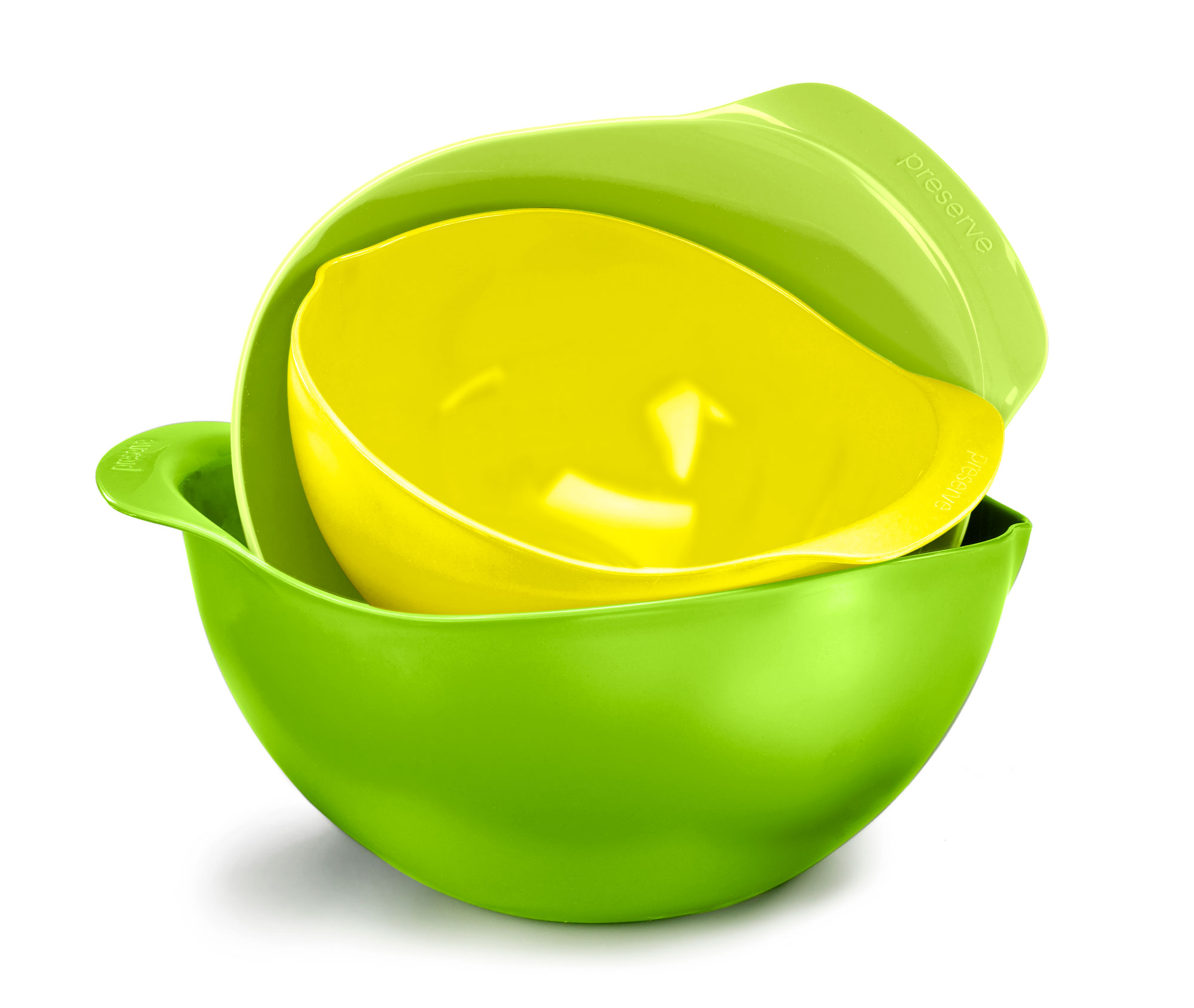 MASSACHUSETTS - Mixing Bowls 2 colors available
MIXING BOWL SET
Preserve mixing bowls are made in the USA from 100% BPA-free, recycled #5 plastic. The Preserve Mixing Bowl set includes three nested bowls (2 qt, 3 qt, and 4 qt). Bowls are wide for comfortable mixing with an easy-grip handle that aids pouring.
Nested set of 2 quart, 3 quart, and 4 quart
Two color sets: Apple Green/Spring Green/Yellow, or Tomato Red
Easy-grip handle
Wide bowl for easy mixing
Spout for pouring batter and sauces
Durable and sturdy
Made with 100% recycled #5 plastic and 100% recyclable
ABOUT THE COMPANY
Since his childhood in rural Western Massachusetts, Eric Hudson has always been at his happiest when outdoors. And, after many years of work in the finance and consulting worlds, his appreciation for the natural world inspired him to apply his professional experience toward preserving the environment.
Studying the recycling system, as it existed at the time, Eric noticed a missing link. More consumers were recycling, but few manufacturers were putting recycled materials to good use. Low-quality penholders and cheap ashtrays abounded, while thoughtful vision was absent. In 1996, to address this gap, Eric founded Preserve.
Eric dedicated his new venture to using Earth's resources more efficiently and responsibly, and to transforming recycled materials into products that were functional, well-designed and fun to use. Where better to start than with a familiar everyday necessity like the toothbrush?
Eric worked with dentists, scientists and engineers to develop the recycling process, identify appropriate recycling streams and design the Preserve Toothbrush. He enlisted his father, Fred Hudson, a car and boat designer, to establish an elegant and distinctive design aesthetic for the new brand, and assembled the team that would become the core of Preserve as we know it today.
Over the next several years, we added stylish, sustainable and functional (and award-winning) products to the Preserve family, from sleek razors and reusable tableware for parties and picnics to nature-inspired kitchenware like colanders, food containers and more. Our reputation for offering attractive, useful and long-lasting products, manufactured from recycled and environment-friendly materials—and all made in America—continued to grow.
But making new products was just the beginning of the story. From its inception, Preserve has been dedicated to "walking the walk"—that is, we apply our founding principles to everything we do. In particular, recycling has been at the core of what we make as a company and what we do as a team. As a new company, we developed plans that make it easy for our customers to recycle our products; and internally, we made recycling a priority in our business model.
And that still wasn't enough! In order to provide options for products at the end of their useful life, we joined with some like-minded partners and introduced the Preserve "Gimme 5" recycling program, centering on the ubiquitous—but less frequently recycled—#5 polypropylene plastics.
Expanding on our existing system that encouraged customers to mail back their used Preserve Toothbrushes for recycling, we placed "Gimme 5" bins at more than 250 locations across the country, where anyone can drop off #5 plastics. We've committed significant financial and human resources to this program over the years, which has recycled more than half a million pounds of plastic; not for financial gain, but because it's the right thing to do.
Today, Preserve is a dynamic, environmentally-focused lifestyle company that has inspired a movement of like-minded resource savers and reusers—known as "Preservers." We're pleased to offer consumers a range of everyday products for almost every room in the home, with a complementary recycling system that helps lighten their footprint.
Recycling is often cited as the most popular green activity in the US—and the production, delivery and consumption of consumer products accounts for almost a third of the country's emissions. These statistics tell us clearly that the work we are doing as a team, with our partners and our customers, is more urgent than ever.